by Sofia Eugeniou
Claire Talbot joined the police force in 1999. Working her way up the ranks, Claire has recently been promoted from Chief Inspector to Superintendent for Essex Police. On 29 May 2020, I had a very modern-day Zoom chat with Claire. During our conversation, I got to understand better the role Claire plays in the Essex community as both a Superintendent for the police force and as an advocate for Kickoff@3.
Straight off the bat, I asked Claire how her involvement with KickOff@3 came to be. In December 2018, Claire was tagged in a tweet by one of her officers at the time regarding KickOff@3. Taking interest in the tweet, her decision to get involved and what followed snowballed from there. Claire grabbed what was an opportunity to do good within the community.
At the time, Claire was the district commander for Thurrock (a borough within the county of Essex). The idea of setting up a tournament based on the KickOff@3 blue-print provided a great opportunity to engage with young people in Thurrock and build those all-important relationships between the community and its serving officers.
Speaking fondly of KickOff@3's cofounder Michael Wallace, Claire expressed how it was his passion, dedication and enthusiasm that sealed the deal and inspired her to get the Essex tournament underway. After a successful pitch to her chief officers, the tournament went ahead in April 2019.
The Essex tournament consisted of sixteen teams, of which there were two age-groups (eight teams in each group). Due to the success of last year's tournament, 2020 was meant to hold multiple tournaments as officers (as well as those previously involved in the 2019 tournament) from 7 out of 10 districts in Essex wanted to get involved. Due to the unfortunate outbreak of the coronavirus, the tournaments have been placed on hold and will presume when it is safe and sensible to do so.
Thankfully, it is not all doom and gloom. Although the 2020 football tournaments cannot go ahead as planned, Claire has reached out to the Active Essex Foundation, who during June runs the "30:30 Challenge" – individuals are encouraged to do 30 minutes of exercise for 30 days. Active Essex will promote KickOff@3's latest initiative to engage people into keeping active: SpinOff@3 (which is running between 3-10 June).
During my conversation with Claire, she described to me her love for sports, especially football (which her father and brother were particularly good at) and water polo. Discussing the current position of women in the world of sports, Claire stated: "As a girl growing up, if you see only men doing something, you'd naturally feel that it isn't for you". As a woman, this truly resonated with me – yes, it is the 21st century, and yes women do have equal rights as men in the UK, and yes, women can do anything a man can, but the game changes (both literally and figuratively) when it comes to sports.
Claire did amazingly well to advertise the tournament in schools, youth groups and on social media as a mixed event in which girls were welcome to play. A beautiful moment of the day, a young female player (positioned as goalie) actually won player of the tournament. St Claire's Football club, a younger team involved in the tournament, also did fantastically well.
Rather importantly, Claire pointed out that although women's football is doing amazingly well, the fact we still call it 'women's football' means we haven't quite made it yet. However, it is the work of tournaments such as those run by KickOff@3 that can actively change that – engaging both young girls and boys in football in a non-competitive and friendly environment really is the key to making societal change.
Typically, if girls do take a serious interest to football and want to play it, it would have to be at either a county or semi-professional level, as rarely can a woman just play football for the sake of playing football (especially among men). Besides the tournaments, it is important young girls have suitable role models to look up to.
Claire's position as a high-ranking woman in policing makes her, and her passion for sport, the perfect type of person to advocate women's' involvement in sports and get more young girls engaged in their community and with their health.
Also making Claire's position so powerful, and her role with KickOff@3 so vital is her understanding that girls are also at risk of the same issues young men face in society, except their narrative and experiences is too-often muted.
Asking Claire about the moments of the tournament that inspired and uplifted her the most, the incredible success story of Evolve 7 was brought up. Invited one evening to a gang and violence conference in Thurrock, Claire got talking to the table beside her, who was from a local community church. Getting onto the hot topic of KickOff@3, the church members knew of some boys they thought would be interested in getting involved in the upcoming tournament.
The young men (aged 15-16), came together, and as strangers with no previous experience of playing as a team, won the Essex Tournament. Even more, they came second in 2019 National Finale. Describing them endearingly as a "disorganised little bunch", Claire couldn't help but notice how in the morning of the tournament they were 10 completely separate people, and by the end of the day "they were an absolute team". The boys received a football kit and certification of recognition from the police force for their brilliant efforts
Speaking fondly of the tournament and Evolve 7's success, Claire told me that the moment she knew that the tournament had done something good was seeing the Evolve 7 team joking around and laughing with each other – it was this comradery, and acting as if old-time mates, that truly highlighted the profound role that organisations such as KickOff@3 have on young people in the community, especially when they are wholeheartedly backed by individuals such as Clare Talbot.
It is the team buzz, the excitement of the young people, and the enjoyment that is brought to the parents, that makes these tournaments worthwhile. The engagement between young people and the police force grows stronger with each match.
Ending the conversation, Claire thanked Michael and Ashley for coming up with the idea, for believing in it, and for believing in her and her team. Claire is really pleased to have been involved and wants to be involved with KickOff@3 initiatives moving forward.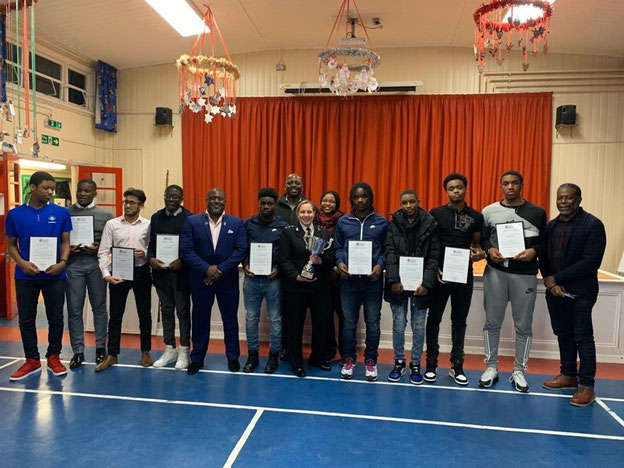 Evolve 7 receiving their well-earned certificates – Claire Talbot and Michael Wallace attend the ceremony. 
More pictures from the 2019 National Finale.