by Sofia Eugeniou
A young American woman by the name of Sonora Smart Dodd is thought to have created Father's Day back in 1910 as a way of honouring her father, a Civil War veteran, who had raised six children on his own after his wife died during childbirth.
Now a UK custom, Father's Day is celebrated in the UK on the third Sunday of June – in 2020, Father's Day is taking place on 21 June.
On Father's Day, children get to honour the role their fathers have played in their lives thus far. For some, this day of celebration is a time for reflection or even pain, especially if a father has been largely absent from one's life as a child.
Being absent in a child's life as a parent, whether that be physically or emotionally, is not particularly surprising – it is a condition that society has grown accustomed to, particularly for fathers.
Even without the endless volumes of research, we know that an absent father is damaging to a child. A child with a physically or emotionally absent dad is likely to experience a higher risk of negative outcomes in life, including poverty, behavioural problems, and lower educational success. Emotionally, the impact can be long-lasting and may interfere with healthy relationships progressing into adulthood.
Unfortunately, we cannot change the past, but we can certainly influence our future and the way we do things, especially when it comes to parenthood and even more so, fatherhood.
Simply put, it is important that a man makes sure he spends times with his children. Speaking with me about his ideas toward fatherhood, co-founder of KickOff@3 Michael Wallace said he feels it is important that fathers support their children with outside school activities, plays, sports events and a range of family fun.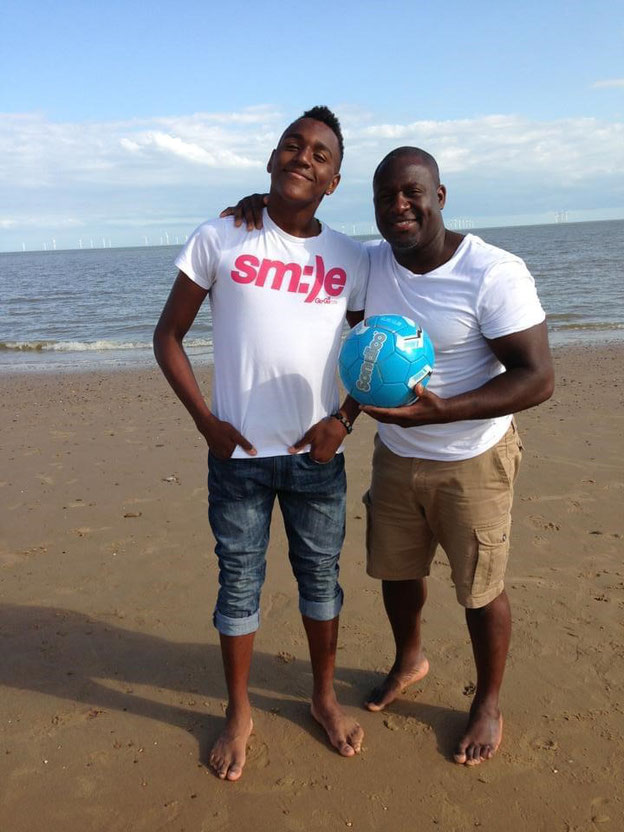 Michael Wallace and his son, spending time together at the beach.
Ashley Levien, the other half of the founding power-team behind KickOff@3, feels fathers should attempt to achieve an equal work-life balance. There is an undeniable societal pressure for men to work and fulfil the role of the primary breadwinner for the family. All too often a father must sacrifice time with his children to ensure their health and happiness.
In the 21st century, things have changed a little. More and more women are not only entering the workplace but are doing so both as mothers and in traditionally male-dominated occupations and positions (women are awesome, and that's not me being biased…). Why I mention this, is the more women gain financial independence and move away from the stay-at-home-mum role, space is opening up for men to achieve exactly what Ashley is preaching. Men will have more time to spend with their children; men can take their kids out on the weekly food shop and they can meet other parents with their kids in the local park for that "play date" arranged weeks and weeks ago, and they can also take time out of their day to read their children their favourite bedtime story.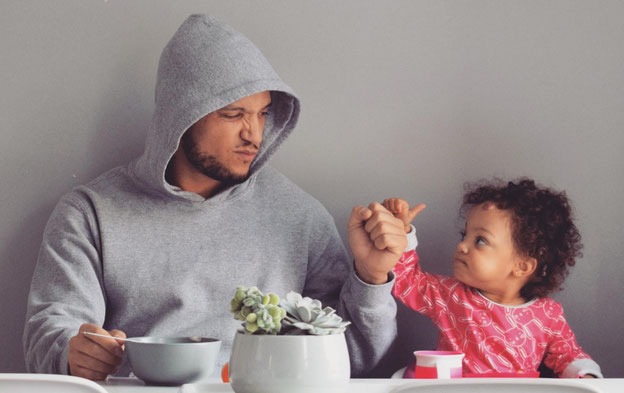 Spuds between Ashley Levien and his young daughter.
With the current pandemic, the preciousness of fatherhood has become all too evident. Whilst we should all take a moment on this day to honour and remember the fathers that have passed from the virus, we should find solace in the opportunity the outbreak has given many fathers to (re)connect with their families and their children. Life may be gradually returning back to 'normality', and men will find themselves back in a position where time is yet again stretched, but the past few months have been dear to many, and nothing can take that away.
Fathers may have discovered things about themselves and their little ones that they never really knew or took the time to realise or care about – it is these moments that make us human, and it is these moments that produce the best out of fatherhood.
So, to whoever is reading this, I hope you get something out of Father's Day this year – whether it's a sense of nostalgia from old memories or a lesson to be learnt. Just as much as we need our mothers, we need loving, present and involved fathers to ensure our little ones get the best possible outcome they can in life.
From the KickOff@3 team, we hope to see more fathers fulfil their highest potential in the journey that is fatherhood, and match that of many women who take on both the mum and dad role for their young ones.
And to my dad, happy Father's Day, I love you.